Partial and unofficial results of the plebiscite held last March 13, 2021 show that the majority of the people of Palawan do not want their province split into three. A total of 133,278 or 58.6% was delivered by those who opposed as against the 94,176 for those who favor.
The plebiscite is a mandatory requirement for Republic Act No. 11259 or "An Act Dividing the Province of Palawan Into Three (3) Provinces, Namely: Palawan del Norte, Palawan Oriental, and Palawan del Sur" to take effect.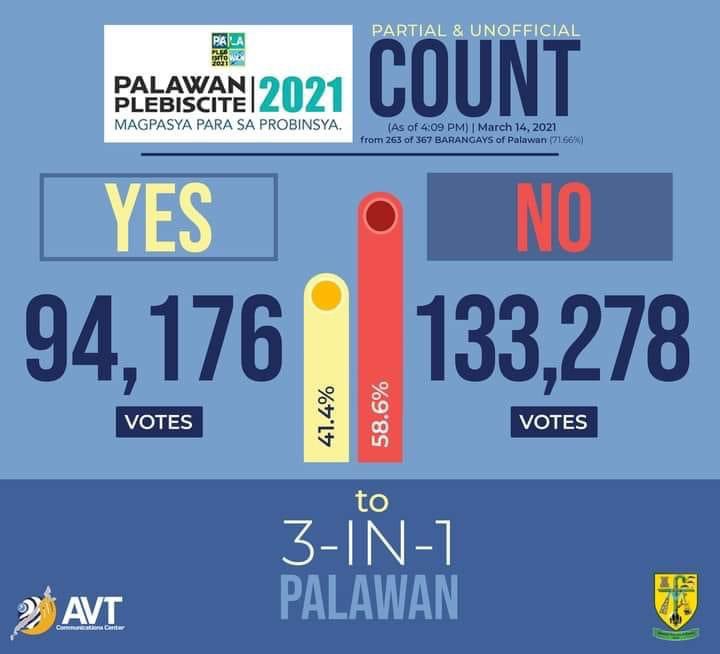 Palawan del Norte is proposed to be composed of the municipalities of Busuanga, Coron, Culion, El Nido and Linapacan with Taytay as the capital town. Palawan del Sur, meanwhile, is to be composed of the municipalities of Aborlan, Balabac, bataraza, Sofronio Española, Kalayaan, Narra, Quezon and Rizal with Brooke's Point as the capital. Palawan Oriental is also proposed to be composed of Agutaya, Araceli, Cagayancillo, cuyo, Dumaran, magsaysay and San Vicente with Roxas as its capital.
Puerto Princesa was not included in the plebiscite being an independent city.
The major advocates of the political and administrative division of Palawan are the province's clans. The major opponents, meanwhile, are the environmentalists who claim that the proposed division is not only being done at a worse time — that is, being under a pandemic — and that it will weaken the implementation of the environmental laws in the province. Add the fact that the province is also affected by the issue in the West Philippine Sea.