Since 2013, Mayor Rodrigo Duterte had been claiming that he is not interested to run for President. Indeed, the Dutertes who filed their certificates of candidacy last October 2015 were for local posts. On November 21, 2015 or more than a month after the filing of candidacies, Mayor Duterte officially launched his presidential campaign and six days later filed his certificate of candidacy as a substitute candidate for Martin Diño of the Partido Demokratiko Pilipino–Lakas ng Bayan or PDP-Laban.
Years later, we hear again another Duterte being prodded to run for president in the forthcoming 2022 elections. Her name is Sara Duterte-Zimmerman, the daughter of then mayor and now President Rodrigo Duterte. Following her father's playbook, Sara, who also served as Mayor of Davao City for several terms, is also reported to express her disinterest to run for President in 2022. But while claiming to be disinterested in the highest government post, preparations are being done by her supporters.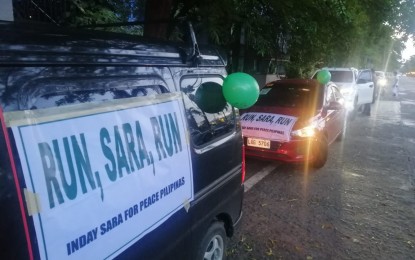 The Duterte playbook is simple: Express disinterest for the post, arouse the public's interest, then file a certificate of candidacy later claiming it to be a response to the people's prodding. It is a time-tested effective playbook as it harps on the Filipino's electoral behavior and the faulty political system in the country.
Filipinos are usually interested to, and are more likely to support, politicians who do not appear greedy to the post. That is how President Rodrigo Duterte was able to amass 16 million votes and why Cory Aquino and Leni Robredo became President and Vice-president, respectively. Of course, there are also other factors that matter foremost of which is money hence explaining why Bongbong Marcos almost snatched away the Vice Presidential post. But then, appearing to be a disinterested in the post or showing no agenda of overstaying in power matters. The country had been exposed to political dynasts and power monopolists so voters who gained no practical benefit from the incumbent would choose the "looking disinterested ones".
But more than this electoral behavior, the playbook is being targeted to at least two objectives — stirring public and media interest, and testing political balloons. As Sara continue to remain disinterested yet on the ground activities are continually held, human interest is triggered. Just like her father, the public will ask: Why are there supporters prodding her to run? She said she will not run, is she not capable? Gradually, these become a part of the voters' subconscious that come the election day, her name will be written in the ballot. Note that at least 7% of the Filipino voters still change their mind during the election day, and 24% a day before the elections.
Aside from triggering interests, the activities being done are also a means to fly political balloons and check whether a traction is created and a bandwagon is rolling. Is there a movement created? Is it moving up? Or, are the activities gaining negative attention? Are people shooting the activities and the movement down? These balloons will then be a basis whether or not to continue with the candidacy.
Unfortunately, the Duterte playbook is not against any election rules. Sara is not yet an official candidate and she can always disassociate with the groups prodding her to run at any moment, at any place, and at any time. Her camp can always claim that the events and activities are the initiative of the public who supports her. This explains clearly why, despite President Duterte's braggadocio, no political or at least election reform was ever done since the start of his term as president.