Many are laughing on the "Philippines, Province of China" location tag. Unfortunately, without many realizing it, the joke is on the Philippines.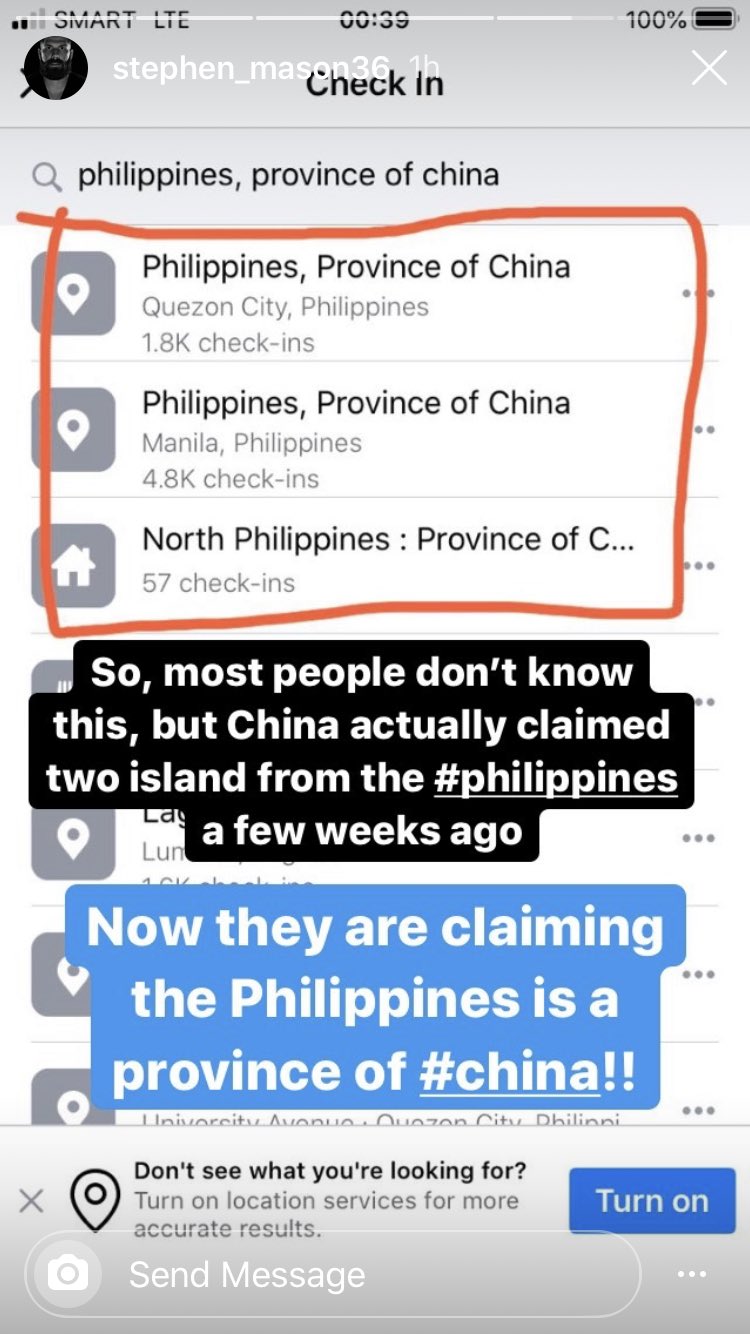 On May 16, Twitter user @paulinedelice shared a screen capture of the location tag. Foreign Affairs Secretary Teddy Boy Locsin retweeted her post but downplayed it at the same time. According to Locsin, the "Chinese are too smart to believe that crap" and took a swipe at @paulinedelice saying she is just hyping the matter and is inviting for a 110 million check-ins.
Locsin, perhaps, had forgotten that China is claiming almost all parts of the West Philippine Sea and has built and named as its own a number of islands in the Spratlys.
Akbayan Senator Riza Hontiveros, however, was infuriated. According to Hontiveros,
Katunog siya ng mga mangingisda nating tinataboy mula sa sarili nating mga karagatan. Katunog siya ng propaganda ng Wow China na ini-ere sa sarili nating radio station. Katunog din siya ng mga isla nating unti-unti nilang sinasakop.
Hontiveros is right on this issue. But more than the emotional aspect, the joke also is a form of mind conditioning. Repetition leads to acceptance starting from the subconscious until it manifests physically and in action.
Locsin trying to downplay the issue is a diplomatic art but that is not typical of his sharp pen and tongue. The best response that he could have given to the simple request of @paulinedelice is that he'll look into the matter. Unfortunately, the response is wanting and reveals a different intention.
Hopefully, an action will be done on this. The founders of this nation did not sacrifice their lives against the Spaniards, the Americans and the Japanese just to kowtow to China. Right?
Lastly, for those who did and laughed at that joke, Bee Gees has given a warning that hopefully will not happen to the Philippines. That warning is encapsulated in their song a verse of which goes:
I started a joke which started the whole world crying,
But I didn't see that the joke was on me oh no.
I started to cry which started the whole world laughing,
Oh If I'd only seen that the joke was on me.